Nature, Art and ... Taste
Welcome to SELVICOLLE COUNTRY HOUSE, we are in Le Marche,
near Crispiero, Castelraimondo, Camerino, Macerata,
the Frasassi Caves, National Park of Sibillini Mountains.
An oasis deep into the green hills of Le Marche region
Your holiday home with swimming pool surrounded by the green hills of Le Marche region! We are in a very quiet and relaxing area, with an amazing view over valleys and mountains and over the medieval village of Crispiero, in the province of Macerata, in Le Marche region, that stands out for the variety and beauty of its landscape. It is in an ideal place to reach places full of art, history and beautiful landscapes.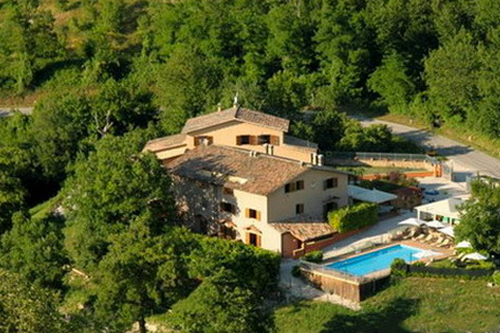 The apartments
Choose your holiday home for your holidays, both in winter and summer season.
Unique landscape
Nature is protagonist as well, with the breathtaking view of the Sibillini Mountains and the homonymous national park, the biggest protected area of Le Marche region, which offers destinations for hiking, bicycle and mtb riding, rock climbing and skiing. Make sure not to miss a visit to the mountain communities of Sarnano, San Ginesio and Pievebovigliana or to the Lake of Cingoli and Lake of Fiastra. If you would like to spend a day at the seaside, in roughly one hour and a half you will reach the wonderful sea of Riviera del Conero or, in one hour, the beaches of Civitanova Marche.
HISTORY, ART AND TRADITIONS
You can visit the villages of San Severino Marche, Pioraco, Sefro, Tolentino, Urbisaglia (with its Natural Reserve of Abbadia di Fiastra), Matelica and Fabriano, with its wonderful Frasassi Caves, the biggest European karst subterraneous system.
Camerino, a wonderful renaissance city where one of the oldest Italian universities is located, is only 4 km away. Amongst the most interesting places to visit there are Rocca dei Borgia , Palazzo Comunale, Palazzo Ducale, Palazzo Arcivescovile and their picture galleries, in particular the diocesan one where Tiepolo masterpiece 'Madonna con bambino' is kept.
FOOD AND WINE
Typical wine and food itineraries (such as the famous white wine Verdicchio of Matelica, the sweet red wine Vernaccia of Serrapetrona and typical dishes such as salame, pecorino cheese and ciabuscolo) are not to be missed, together with the various craft fairs and country festivals.
The reviews of our customers



WOULD YOU LIKE TO SPEND YOUR HOLIDAY HERE?
Fill in the form now to ask for more information
It is very easy to reach us if you follow our directions!
We will answer within 24 hours. If you need a quicker answer, call us!